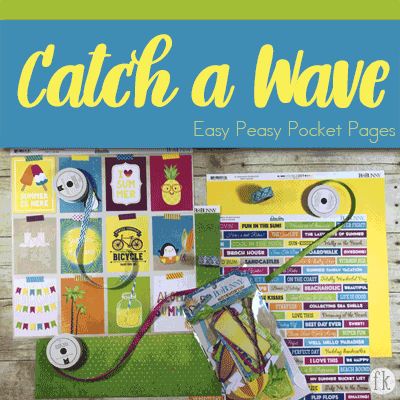 With summer just around the corner, it's time to begin gathering your memory keeping supplies for the memories that have yet to be! Preparing a couple of quick pocket page layouts will make it all the more easy to create your layouts–just slip in your favorite pictures from your day at the beach and you're done!
We've brought together the papers from Bo Bunny's Make a Splash collection and loads of coordinating embellishments to give you as many options for creative memory keeping as you have wonderful memories. And, as always, Finders Keepers helps you pull it all together in the blink of an eye and absolutely stress-free.
In this kit, you will find:
2-12×12 sheets from the Make a Splash collection by Bo Bunny
1-12×12 sheet of Kiwi Vintage paper by Bo Bunny
1-12×12 sheet of Lemonade Double Dot by Bo Bunny
1 full package of Noteworthy elements from the Make a Splash collection by Bo Bunny
1 roll of blue anchor washi tape
1 roll of blue floral washi tape
3 spools of ribbon, in pink satin, blue chevron and green satin, from American Crafts
A FREE sheet of coordinating stickers, as a thank you from us, to YOU

Add on items
in our
Miss Sellanius Shop

Buttons Galore Sequin & Bead Mix in Citrus Fun
Buttons Galore Decorative Embellishments in Gemstone
And it can be yours for
$12
Click here to see this product in our shop.
Toodles!
Save
Save
Save
Save
Save
Save