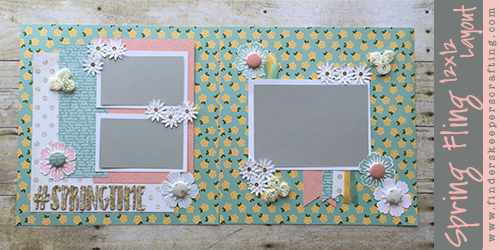 There's a backstory to this kit. It involves a couple of Stampin' Up! paper punches and a designer left alone to work without adult supervision. The result is this beautiful, albeit a bit labor intensive, layout. We spent hours punching tiny little flowers and counting them out into teensy-weensy glassine bags. There were charts involved. You will spend some time putting these flowers together, but all the flowers are separated by page for you and you also receive a baggie with extras, just in case. So, what are you waiting for?
Don't be afraid. You'll love it. We promise.
In this kit, you will find:
Blossoms paper from Pebbles' Spring Fling collection (2 sheets)
Celebration paper from Pebbles' Spring Fling collection (precut)
Sugar Double Dot paper from Bo Bunny (precut)
Designer Series Paper in Mint Macaron from Stampin' Up! (precut)
5 large paper flowers
5 coordinating button flower centers
Punched paper flower pieces for 12 paper flowers (assembly required)
Gold sequins for flower centers from Stampin' Up!
9 ivory ribbon rosettes
2 spools of ribbon in mint and yellow
Celebrate Alphabet Thickers from Pebbles' Spring Fling collection (3 complete alphabets, plus symbols)
Photo mattes in Whisper White cardstock by Stampin' Up!
A special gift from Finders Keepers
To complete this kit, you will need:
Tombow multipurpose adhesive
Double sided tape
Glue dots
snips (sharp, pointed scissors)
And it can be yours for $20.
Click here to see this product in our shop.
See you around the neighborhood!
Save
Save
Save
Save
Save
Save
Save
Save
Save
Save
Save
Save
Save
Save
Save
Save