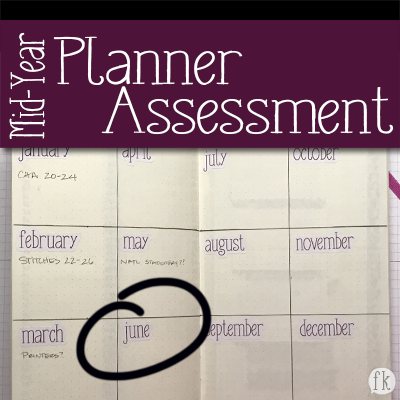 You know when you are all caught up in the holiday season and then, all of a sudden, you realize that you need a new planner for the new year, which is just around the corner, and you have a little panic because there are so many choices and they all look so fresh and colorful, and, well, organized? And you just can't pick? And you sort of swoon with all the terrific options you have? And you don't really know where to begin to make that decision? And so you buy two planners? Or three? Or 10?
Yeah. We've been there, too.
This year, though, we planned a mid-year planner assessment (which we planned for June, but, you know, life happens), which is going to help us think through, in specific detail, what we really need in a planner–now, when we have a clear head and before the major 2018 planner releases. So, our idea is, as those new planners are released, we can hone in on the one that will serve us best in the upcoming year. The goal, after all, is be organized, not just acquire the tools for organization in different colors. (Which is an awesome side effect, but not the ultimate goal.)
So, we are doing a planner review–and we hope you join us! And here are some questions you might ask yourself, to get a clearer picture of the planner you will need heading into 2018:
Looking through your planner, are you trying to fit too much into the boxes in your monthly (or weekly) calendar? It could be that you need to have a weekly (or daily) layout instead.
Are you, perhaps, a lister who has been trying to "list" everything on a calendar format? You might need a bullet journal instead.
Are you a bullet journaler who is constantly drawing little boxes on your page layouts? You might need a calendar more than a list (or some combination of the two). Maybe try a calendar planner (or do what we do and stick monthly calendars at regular intervals throughout our bullet journals).
Did your good intentions to be more organized fall apart a few months in? It might be that you bit off more than you could chew. Perhaps next year, begin with a simpler, more straightforward planning approach. Begin with your simplest idea–perhaps just a regular, spiral notebook for making lists and let your system develop slowly from there.
What kinds of things do you tend to record? Is your planner for doctor and dentist appointments, do you use it to keep track of fitness goals and meals, or do you like to add in milestones and achievements? Or a combination thereof? Be sure, as you choose your 2018 planner, that you leave room for everything you like to keep track of.
Do you have a procedure or plan for setting up your 2018 planner system? (You can check out ours here.)
How is your planner working for you? Let us know!
Happy Planning,
P.S. For more information on planner styles, check out this article.
Save
Save
Save
Save
Save
Save
Save