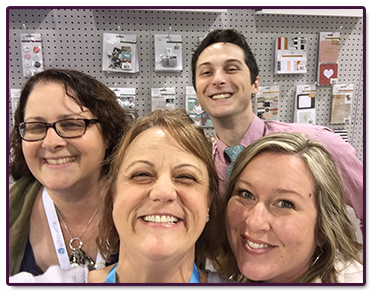 As you may know, CHA (the Craft and Hobby Association) recently held their Mega Expo in Anaheim, CA. It is a trade show for crafting professionals, with booths for all the big (and small!) crafting companies spread out over literally acres of floor space. We had 5 days to see everything, set up accounts and place orders for the year and it took every minute to get it done. Whew!
Plus, we are both kind of loopy and fangirl about the whole thing, so we lose some time each year to gawking and pointing.
And, as we look at all the year's new releases and get free samples and take part in make-and-takes, there are always a few, really spectacular, fantastically splendiferous offerings that really send us orbiting the moon.
So, here it is, this year's…
Finders Keepers' CHA Top Ten:
10. The Knit Dresses by Caron and the Lion Brand Yarn Bomb.
The yarn people really outdo themselves each year and, although we are paper crafters by profession, we are also knitting hobbyists. Check out these colors and textures. Then look at the yarn wigs. Then, if you're feeling lucky, play our new favorite internet game, Spot Sarah. Can you find her????
The Yarn Bomb was spectacular, spanning an entire booth with vibrantly colored yarn originating from spinning wheels and ending in an underwater scene that grew and became more detailed each day. Good on ya, Lion Brand!

9. Tim Holtz's Distress Crayons.
We got to play with these on our last day and, well, wow. They are so smooth, like the creamiest of oil pastels, but they interact with water beautifully as well. They also can be layered with inks and the colors are incredibly vibrant. Everyone was going nuts for them, so you can expect to see a lot of them on Pinterest in the coming months. Well done, Tim. (Plus, we don't want to brag, but we were commenting on a product at CHA and
Tim Holtz came around the corner and said, "That's exactly what I thought. I just said the same thing." So, you know, we're practically best friends with him now. As long as we stay at least 50 yards away at all times.)
8. Tiny Stamps by Waffleflower
Waffleflower is one of those small companies with a big heart. They sell wonderful planner stamps, in top-quality photopolymer, among other things. But the sets have always been too big to be a cost-effective addition to our kits. But no more! They have these really wonderful mini stamp sets that are also wonderfully affordable! Keep your eyes out for these stamp sets in our upcoming planner kits.
7. Beautiful Dreamer by Bo Bunny
Sooooo….we wandered into the Bo Bunny booth (say that 10 times fast!) and one of the first things we saw was a line of papers and embellishments called Beautiful Dreamer, with a deep, achingly luscious burgundy as its base and mint green, sepia browns, cream and soft pinks as accent colors. The images of hot air balloons and old bicycles have an old fashioned, nostalgic appeal. AAAAaaannnd….the newest suites by Bo Bunny include decoupage paper, which is really wonderful to work with–stronger than tissue paper, lighter than scrapbook paper.
6. Glitter Paste and Stencils by Bo Bunny
We love multimedia and have vowed to include more of it in our kits this year. So we took a class at the Bo Bunny booth and were impressed with the ease of use of these materials. The glitter paste has the weight and consistency of a light frosting (maybe a meringue….or whipped topping…..excuse us for a moment while we go get a snack…..)
We're back. The stencils are really special. They are of a flexible rubber-y material and have a slight adhesive quality, which is perfect for a crisp image. We have a really special project planned for this summer–keep an eye out!
5. Heidi Swapp's Light Boxes
Heidi Swapp is a wonderfully warm and kind person and we were so honored that she took the time to show us around her booth herself. We fell in love with her planners, but the light boxes really took our collective breath away. Finally–a home decor item to announce our family's daily double feature of Cleaning the Bathroom, starring Stori and Trumann and Picking Up the Living Room, featuring the comedic talents of Ashley and Beth.
4. Our Friends Molly and Race from Project Life
Let's face it, as much as we love holing ourselves up in our studio and gluing bits of paper together, Finders Keepers is really all about relationships. And we believe that a life can be measured by the number of people in it who can make you laugh until milk comes out your nose. We felt so lucky to happen upon the Molly and Race Show in the Project Life booth. These two are like the best kept secret at CHA. Molly showed us the new Instax line of goodies (look for some of these items in our upcoming planner kits) and the new Core Kit, Currently, which is a super cool mix of funky and retro colors and graphics, while Race sang back up. See more of our visit and get a closer look at the Project Life products video here. Thanks, Molly and Race. You rock our papercrafting world with your all around awesomeness. Dear Finderskeepians, Stop by the Project Life office next time you're in Arizona and chat with Molly and Race. We guarantee they will make you laugh until milk comes out your nose.
3. Heart by Simple Stories
Maybe it's because we've both experienced loss recently or maybe because it just fills a need, but this collection of papers and embellishments by Simple Stories just had to make the list. Kevin, who showed us around the booth, explained that the designer of this suite, when faced with the need to scrapbook a life posthumously, saw that the happy-daisies-unicorns-and-whimsy papers that dominate the memory keeping market just wouldn't fit the bill. This collection is beautiful and sweet, while being respectful and, yes, a little sad. We both wept when we saw it. Then Kevin joined us and joined in. We will be designing some layouts for remembrance later in the year using this collection.
2. The DIY Music Boxes by Little B
Take a beautiful, honey-and-walnut-tone, wooden, music box base, choose a song and install the inner workings (which takes all of four screws), choose your charming toppings and glue them in place. These music boxes will be HUGE. Check out the pictures below and then take a look at our (admittedly amateurish) video here (to get a better idea of the possibilities). Note: These are currently being tested in only New Jersey. Little B is hoping to make them more widely available in the summer.
And here it is: (drum roll please)
1. The Finders Keepers Collection by Amy Tan
It's colorful and playful and she named it after us (and she told us we could say that, 'cuz we asked). Amy Tan has a way of capturing the kind of carefree and playful style of a child's imagination. She plays with color and shape the way a writer plays with words or a great chef mixes flavors. So, to sum up, this collection is playful and fun and we can't wait to work with it.
Bonus Fave: The Wink of Stella by Zig
STEEEELLLLLAAAA! (We just love doing that.) This brush pen leaves a subtle trail of glimmer in its wake as it glides across the page, like a fairyland snail. Use it to highlight text or to touch up photos. We ordered both the clear and gold, so watch for those in our upcoming planner sets.
---
Save