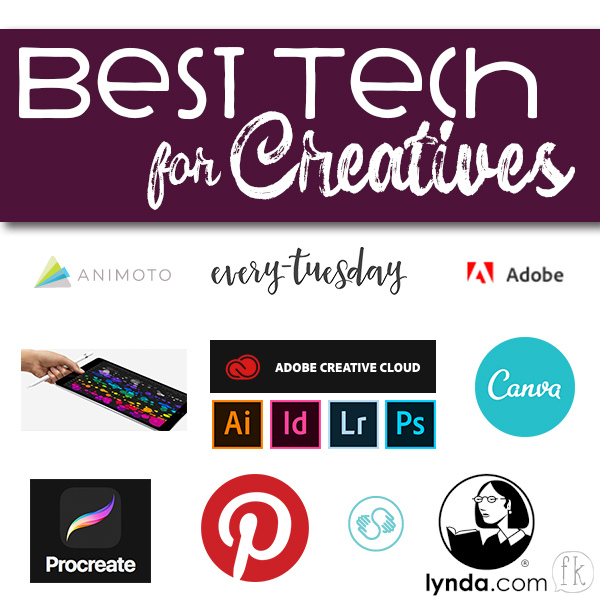 Here at Finders Keepers we use technology quite a bit, and you Finderskeepians probably do, too. After all, even if you haven't jumped on the smartphone bandwagon, it would be pretty difficult to make it through this modern world without some kind of tech to help you along the way. And why not? It's convenient, it's fun and it can be pretty interesting! This week we want to introduce to you all our favorite tech and how we use it, as professional creatives.
Sarah uses her iPad Pro and her Apple Pencil to sketch initial designs for much of our artwork. It's an invaluable tool for getting concepts out of her brain and onto the computer.

 

This is another favorite, that we use to explore concepts for papers and stickers and so forth before we are ready to nail them down. Among its greatest features: it integrates seamlessly with all Adobe programs and, with its share feature (if you are a Mac person) you can simply Airdrop your drawings into Photoshop. No muss, no fuss!

 
Adobe

We use these Adobe programs every day. (From the top: Illustrator, Photoshop, InDesign and Lightroom.) We are also beginning to explore Spark and Premiere. (If you think these programs are too complicated, stay tuned!)

 
Adobe Creative Cloud

We use the Creative Cloud as our membership portal and organizing tool for all our Adobe work.

We are pretty new to Canva, but it shows tremendous possibilities! It allows us to work with dozens of templates (in its free version) to make headers for our social media pages and cool graphics for our posts.

If you are on Facebook and you have seen any of our short process videos, it was probably an Animoto. This online app allows us to drag and drop images and video clips and arrange them with text and graphics to create short videos to share with our customers. It's very easy to use and the end product is always impressive.

We tune in every Tuesday while we eat our lunches to watch whatever Teela has posted. This woman has forgotten more about Adobe products and Procreate than most of us will every know. These clips almost always demonstrate some cool technique that we have never seen before.

This is where we go to learn about anything tech–from Adobe to Google Analytics to Quicken. We pay a monthly fee for access to a truly impressive list of classes.

Skillshare is another place we may go to level up our tech skills. Not as extensive as Lynda.com, but a very good resource, nonetheless.

 

And, of course, Adobe also has many helpful videos and teaching materials available to anyone who would like to know about how to use their suite of programs and get to better know Adobe's possibilities.

 

Pinterest, as you probably know, is the best place to go to get inspiration. When we are embarking on a creative project, we often spend some  time on Pinterest, creating a mood board. Not sure what a mood board is? Look it up on Pinterest!
Happy Creating,
Save
Save
Save
Save